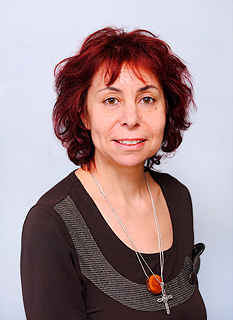 Dr. Stavreva graduated from the Faculty of Dentistry at the Medical University of Plovdiv in 1980. In 1985 she acquired a degree in General Dentistry and worked consecutively as a general dental practitioner in the villages Konyovo and Elenovo in Nova Zagora municipality. To her own opinion, practicing in village areas is the best teacher because the dentist should deal alone with different cases of dental practice.
By winning a competition n 1989, she started work at VI Dental Polyclinic in Trakia residential quarter, city of Plovdiv. Since 1993 she has had independent practice as a dentist. Dr. Stavreva is a general dental practitioner with many years of experience and high qualification which guarantees the excellent quality of dental services she offers. Each year she visits qualification courses, seminars and exhibitions in order to improve her skills and to exchange experience with leading specialists in dental practice.
Currently Dr. Stavreva practices at her own dental center in Plovdiv, Trakia residential quarter, bl. 181, en. A, apt. 19, in which besides her daily patients, she welcomes also emergency cases.
In the event of need for emergency dental aid in Plovdiv, Bulgaria, you can contact Dr. Stavreva any time at +359 877 035 206.
---