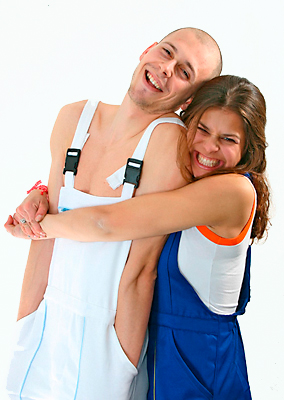 Smile is an outer expression of the internal spiritual state of a person. Besides, it is the fastest and most beautiful change in our appearance. We all like to communicate with smiling, cheerful persons. Such people radiate kindness, serenity and warmth. Smile charges us with positive emotions. It is very healthy. The more we smile, the better we feel.
Unfortunately, almost each one of us has dental problems. Problems and pain accumulate in the course of years. Will you keep hiding your face while smiling? Will you keep postponing your visit at the dentist's? Till when?!
For a dazzling smile, visit the center of Dr. Jivka Stavreva. She will prepare for you the right treatment schedule so you can have a brilliant smile. When you visit Dr. Stavreva you feel calm, and after her treatment you go out of the center with perfectly recovered teeth and dazzling smile which makes wonders!
Therefore – smile again without embarrassment!
In the event of need for emergency dental aid in Plovdiv, Bulgaria, you can contact Dr. Stavreva any time at +359 877 035 206.
---